Fiction and nonfiction writers alike identify with certain cities, states, or regions and engage with these geographies both on and off the page. If you are looking to infuse some regional flavor into your event and shine a spotlight on your region, we invite you to meet some of our "locals."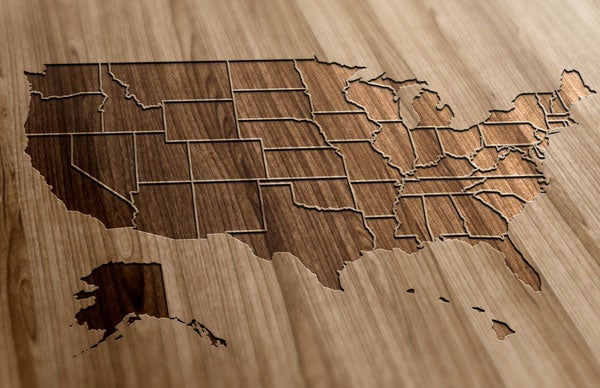 The Northeast and Midatlantic
Maine
Richard Russo  knows small-town America. Having lived in upstate New York and rural Maine, Russo has an uncanny sense of the way life works in the gritty industrial towns of the American Northeast. A genuine, charming, and generous speaker, Russo's lectures are filled with wit and humor. Russo's Pulitzer Prize-winning novel Empire Falls takes place in a Maine factory town, while his newest book, Everybody's Fool, returns to North Bath, New York and the unlikely heroes that define blue-collar America.
In 2009, Elizabeth Strout  won the Pulitzer Prize for her short story collection, Olive Kitteridge. The stories are set in Maine where Strout's family has lived for eight generations. A Bates College graduate, Strout is the author of five books and grew up in in Maine and New Hampshire. Her luminous lectures are thoughtful meditations on craft, place, and what it means to make a home.
New York
Melanie Benjamin  is the New York Times-bestselling author of four books, including her most recent novel The Swans of Fifth Avenue, an enthralling exploration of Truman Capote's relationship with the society "swans" of 1950's New York City. Known for her fictional portraits of iconic women, Benjamin speaks about her compelling subjects and the research that goes into each of her works.
Imbolo Mbue  is the debut novelist of Behold the Dreamers, one of the most eagerly anticipated books of 2016. Set in New York City, the novel juxtaposes the top 1% and immigrant working class, both which define and divide the thriving metropolis. A self-taught writer, Mbue speaks about how her own life experiences shape her fiction.
Dan-el Padilla Peralta  is a celebrated classicist, Columbia University Fellow, and the author of Undocumented, a memoir that retraces his struggles navigating the rough streets of Harlem and finding his place in a prestigious Manhattan private school. In his lectures, Peralta offers an honest and inspiring glimpse into his experience as a Dominican immigrant and reflects on immigration policy in the past and present.
The Midwest
Iowa
Jane Smiley  is the author of more than twenty books of fiction and nonfiction. Many of her works are set in Iowa where she lived for 24 years, including the Pulitzer Prize-winning novel A Thousand Acres. In her recent Last Hundred Years trilogy, Smiley returns to the Midwestern heartland to follow an Iowa farm family across 100 years. A jack-of-all-trades, Smiley is a sought-after lecturer who speaks on a wide variety of topics, including politics, farming, child rearing, and literature.
Michigan
Charlie LeDuff  is a Pulitzer Prize-winning reporter, media personality, and author of the New York Times bestseller Detroit: An American Autopsy, an explosive exploration into LeDuff's hometown and the ruins of what was once America's richest city. Both in his lectures and on television, LeDuff sheds light on local and national issues with his characteristic gonzo-style reporting and humor.
Minnesota
J. Ryan Stradal's  debut novel, Kitchens of the Great Midwest, has been hailed as a "feat of narrative jujitsu." Born and raised in Minnesota, Stradal delves deep into the American heartland in his book and lectures, thwarting misconceptions about the Midwest and capturing the zeitgeist of America's breadbasket in a deeply personal way.
The South
Florida
Carl Hiaasen  is a Florida native, bestselling novelist, and Newbery Honor winner and has been writing about the idiosyncrasies of the Sunshine State all his life. A columnist for The Miami Herald, Hiaasen delivers sharp observations on Florida's politics, environmental issues, modern culture, and corruption. Direct, sometimes outraged, but always funny, Hiaasen appeals to audiences far beyond Florida's borders. His forthcoming book, Razor Girl (September 2016), promises to be another zany and unstoppably hilarious ride.
Lousiana
Charlaine Harris  is the New York Times-bestselling author of the Louisiana-based Sookie Stackhouse novels, the inspiration for the HBO hit series True Blood. A charming speaker, Harris discusses her creative writing process and the inspiration behind her highly imaginative Southern Gothic stories. She grew up in the Mississippi Delta and lives in Texas.
Pulitzer Prize-winning medical journalist  Dr. Sheri Fink  is the author of the critically acclaimed bestseller Five Days at Memorial: Life and Death in a Storm-Ravaged Hospital, which masterfully reconstructs the events at Memorial Medical Center in New Orleans during and after Hurricane Katrina in August 2005. Drawing audiences into the lives of the doctors and nurses who struggled to save lives amid chaos, Dr. Fink exposes how ill-prepared we are for the impact of large-scale disasters.
Josh Neufeld  is an award-winning comics journalist and the author of A.D.: New Orleans After the Deluge, the story of seven Hurricane Katrina survivors inspired by Neufeld's experience as an American Red Cross volunteer. Neufeld's multimedia presentations encompass such topics as Hurricane Katrina and New Orleans, his creative process, and the ever-changing media landscape.
Mississippi
Kathryn Stockett  is the author of the New York Times bestseller, The Help, the basis for the Academy Award-winning movie of the same name. Stockett is a favorite with book clubs, libraries, and universities. With warmth and humor, she relates her long road to becoming a novelist, her experience growing up in Mississippi, and the inspiration behind her fiction.
The Westcoast and Mountain States
California
James Ellroy  is a renowned noir crime writer who has captured the grit of his hometown Los Angeles in novels like The Black Dahlia and L.A. Confidential. The City of Angels is a significant and pervasive character in Ellroy's books, and his lectures are riveting explorations of his craft and the history and social climate of L.A.
Utah
 Josh Hanagarne  is a Salt Lake City librarian and the author of The World's Strongest Librarian. His funny and uplifting memoir is the story of his life as a Mormon with Tourette's syndrome who found solace in books and weight lifting. Speaking with disarming candor, Hanagarne brings audiences to laughter and tears.
The Pacific Northwest
At age twenty-six, Cheryl Strayed  embarked on a 1,100-mile solo hike of the Pacific Crest Trail from the Mojave Desert through California and Oregon to Washington State. Her #1 New York Times-bestselling memoir, Wild, is as much an inspiring memoir about a young woman forging ahead against all odds as it is a story about the gorgeous, rugged, and unpredictable beauty that is the Pacific Northwest.
Please contact us about booking our speakers to come to one of your future events. If you would like to stay up-to-date on our speakers, make sure to sign-up for our newsletter.