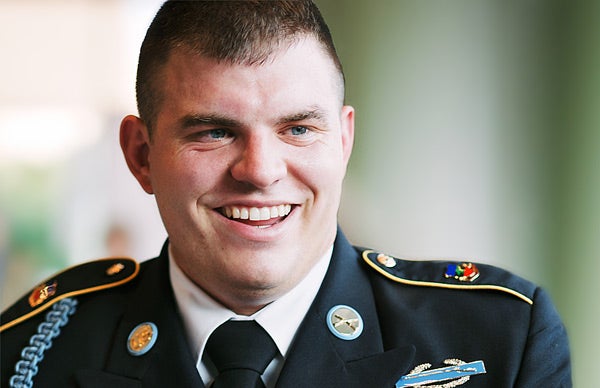 This Veterans Day we'd like to invite you to discover some of the remarkable veterans and war historians we have on our roster. Whether you are looking for a history lesson on Vietnam or to glean leadership strategies from the frontlines, each of these speakers has a unique message that will help honor those who have served and open audiences' eyes to the experience of war.
Travis Mills
Retired U.S. Army staff sergeant Travis Mills of the 82nd Airborne is a recalibrated warrior, motivational speaker, and international advocate for veterans and amputees. He is one of only five servicemen from the wars in Iraq and Afghanistan ever to survive his injuries as a quadruple amputee. In his recently published memoir, Tough As They Come, and his vivid and powerful lectures, Mills tells stories of brotherhood, survival, duty, selflessness, honor, and coming back from the brink of despair.
Donovan Campbell
Donovan Campbell didn't become the director of operations of a top energy technology company by accident. After three deployments to both Iraq and Afghanistan, Campbell had learned the basic principle of leadership—in order to lead, one must learn how to serve. After the success of his Iraq War memoir, Joker One, Campbell has outlined a practical action plan on how to lead effectively in all situations in his recent title, The Leader's Code. Join Campbell as he describes the necessary characteristics to succeed at an authority position— perfect for executive, religious, corporate, and educational settings.
Brian Castner
A war veteran turned memoirist, Brian Castner served three tours of duty in the Middle East. His memoir The Long Walk: A Story of War and the Life That Follows is the story of his struggle to survive modern combat in Iraq and his personal tale of confronting the new person he had become upon returning to his family. Castner astonishes audiences with his powerful and harrowing story of the terror, excitement, and camaraderie of combat, and the lonely battle against the unshakable fear, anxiety, and survivor guilt that he—like so many veterans—carries inside.
Rajiv Chandrasekaran
Rajiv Chandrasekaran is a former senior correspondent and associate editor of The Washington Post and a National Book Award Finalist. Chandrasekaran partnered with Starbucks CEO and longtime veterans' advocate Howard Schultz to write For Love of Country, which tells the stories of those who served in Iraq and Afghanistan. These powerful, unforgettable stories demonstrate just how indebted we are to those who protect us and what they have to offer our nation when their military service is done.
Phil Klay
U.S. Marine Corps veteran and debut author Phil Klay takes readers to the front lines of the wars in Iraq and Afghanistan with his searing short story collection, Redeployment. Winner of the 2014 National Book Award, Redeployment explores themes from the veteran's perspective – describing violence and battle with moving solemnity. Phil lectures on the difficulties and joys of returning to civilian life after war and approaches the tradition of war literature with first-hand authenticity.
Fredrik Logevall
Winner of the Pulitzer Prize in History for Embers of War, his groundbreaking history of the Vietnam War, Fredrik Logevall is a renowned historian and leading expert on international relations and foreign policy. Weaving a compelling narrative through decades and across continents, Logevall delves into the Vietnam War not as a relatively isolated conflict but as an event that the globe conspired to create. This popular speaker and expert on international affairs delivers a history of the Vietnam War that is eerily prescient, with profound implications for our own time.
Craig Mullaney
Craig Mullaney spent years preparing for combat in Afghanistan. He earned his degree at West Point, traversed the peaks and swamps of Army Ranger School, and debated the greats at Oxford University. But no education could have prepared Mullaney for the harsh realities of war.  Journey with the Bronze Star recipient and bestselling author of The Unforgiving Minute, as he describes the leadership skills he gained from the battlefield—and how he's using that expertise today, as the strategic partner manager of Facebook.