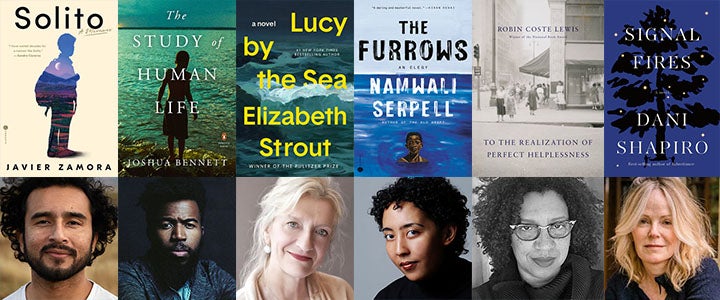 Bring this fall's buzziest books to life for your audiences with an author event. From spellbinding works of imagination to breathtaking interpretations of history, these speakers surprise, enchant, and spark conversations among readers and audiences everywhere with their incredible craft.
---
Memoirist, poet, and author of Solito

Solito
"Zamora, a poet, recounts in absorbing detail the dangerous, weekslong journey he took from El Salvador to reunite with his parents in the United States when he was just 9."
—The New York Times
Javier Zamora shares his harrowing journey and explores how identity influences our ideas of home, and brings humanity and warmth to the figure of the "immigrant," stressing there are always moments of joy, love, and hope, even in the worst of circumstances.
Author of The Old Drift and The Furrows

The Furrows
"A wrenching examination of grief, memory, and reality . . .  Let this breathtaking novel roll over you in waves."—Esquire
Namwali Serpell explores mistaken identity, double consciousness, and the longing for reunion with those we've lost.
Pulitzer Prize-winning author

Lucy by the Sea
"Strout's portrait of a divorced couple united by worry for their two grown daughters illuminates a refreshingly unexplored angle of Covid… [Lucy and William] leap off the page along with their creator's salty wit and a phantom scent of hand sanitizer." –New York Times
Elizabeth Strout reflects on her most recent works and addresses how truth inspires fiction, how literature can spark compassion, and how the books we read can shape our identities.
Professor of English and Creative Writing at Dartmouth College and acclaimed poet

The Study of Human Life
"With a singularly expansive and compassionate view of history, Bennett sweeps across generations of joy, suffering, and connection." —Lit Hub
Dr. Joshua Bennett recalls and reimagines social worlds, touching on themes such as Black ecological consciousness and poetry's role in activism.
National Book Award-winning poet, author of Voyage of the Sable Venus

To the Realization of Perfect Helplessness
A genre-bending exploration of poetry, photography, and human migration–another revelatory visual expedition from the National Book Award–winning poet who changed the way we see art, the museum, and the Black female figure.
Robin Coste Lewis reverses our expectations of both poetry and photography, reframing what it means to be human and alive, with Blackness at its center.
Bestselling author of Hourglass and Inheritance, host of the Family Secrets podcast.

Signal Fires
"A haunting, moving, and propulsive exploration of family secrets." —Meg Wolitzer
Dani Shapiro takes us through her writing life as she examines the ties that bind families together—and the secrets that can break them apart.