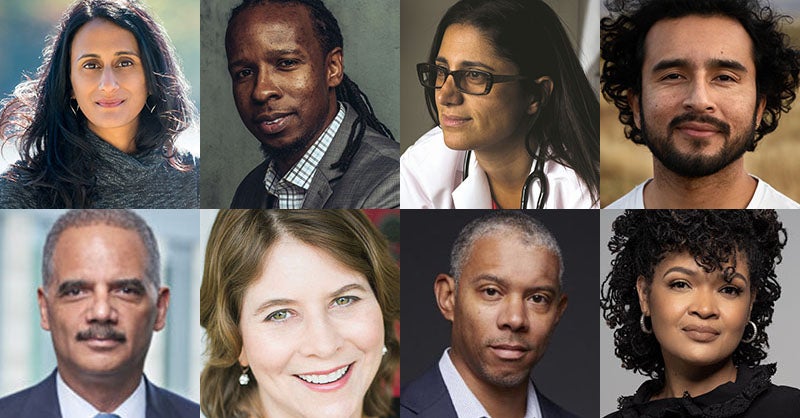 As we draw closer to the midterm elections, we continue to have important conversations about these prominent ongoing concerns. From voting rights to immigration to reproductive rights, these topics are at the frontfront of today's poltical debates. These speakers bring their unique perspective to the discussion and address what's at stake for this election cycle.
---
Former U.S. attorney general and esteemed civil rights leader


Eric Holder provides insightful analysis of our present tide of voter suppression. Holder speaks on ending partisan gerrymandering and championing for changes on laws aimed at suppressing voter turnout.
Emergency room physician and author of The Emergency: A Year of Healing and Heartbreak in a Chicago ER


Dr. Thomas Fisher draws on his experience as an emergency room doctor, a healthcare executive, and a policy-maker to fight for healthcare reforms necessary to remedy the fatal flaws in our healthcare system.
Physician, scientist and activist who exposed the Flint water crisis


Dr. Mona Hanna-Attisha advocates for national changes in community water management and reducing racial and ethnic disparities in child health.
Author of Take My Hand


Dolen Perkins-Valdez talks about the importance of reproductive justice and the need to continue protection of women's access to reproductive healthcare.
Memoirist, poet, and author of Solito


Javier Zamora shares his harrowing 3,000-mile journey from his small town in El Salvador to the United States. He put a human face to the pains and dangers of undocumented migration and the way immigration policies have created a dangerous system.
Author of The Optimist's Telescope, Editor-at-Large at The Boston Globe, and a fellow at New America


Former Obama White House climate adviser Bina Venkataraman explains how we can protect the Earth's resources across generations and sheds light on the importance of environmental policies to secure the future of humanity on the planet.
National Book Award-winning historian and New York Times-bestselling author of How to Be an Antiracist


Dr.Ibram X. Kendi confronts the history of anti-Black ideas in America and urges for reforms in the racist and discriminatory policies that continue the cycle of racial inequity.
American law professor and author of Tangled Up in Blue


Rosa Brooks examines the complex intersections of race and socioeconomic status in interactions between civilians and police and highlights the need for reforms not only in current policing practices, but also in the laws and institutions that make policing what it is.