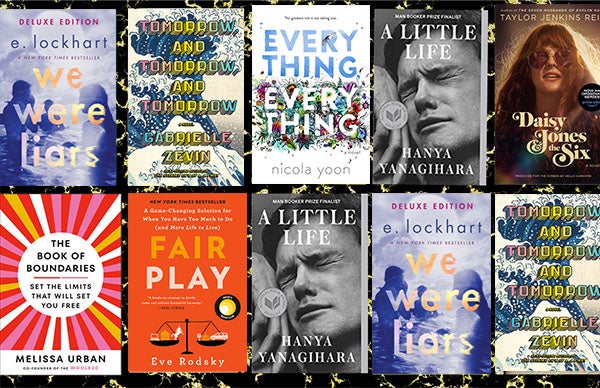 Driven by dedicated and passionate readers, #BookTok and #Bookstagram have blown up from the small group of creators sharing their recommendations to a notable online reading community. This burgeoning phenomenon serves an important role in bringing beloved books to a wider audience. From YA to literary fiction, these phenomenal books have made a big splash on #BookTok and #Bookstagram. Engage the audience in your next Community Reads or library event with the sensational speakers who wrote them!
---

We Were Liars, a fantastic young adult novel of psychological suspense by E. Lockhart, exploded on #BookTok. The novel was a break-out success, a #1 New York Times bestseller, and won many state awards.
A favorite speaker at schools and libraries, Lockhart shares tools she uses to create compelling narratives — specifically, how everyday emotion can be translated into powerful poetry, fiction, song lyrics, comic strips, or film. She touches on her recent novels, but the focus is on empowering students to create.

One of the most talked about books on social media from 2022, Gabrielle Zevin's Tomorrow, and Tomorrow, and Tomorrow  is a New York Time bestseller, one of the best books of the year from TIME to Entertainment Weekly to Amazon, and the winner of the Goodreads Choice Award.
With humor and  heart, Zevin explores the effect that video games and play have on storytelling, shares how her experiences with gaming and computers led to writing Tomorrow, and Tomorrow, and Tomorrow, and brings audiences into the evolution of her process for creating beloved and complex characters.

One of the most popular must-read titles on #BookTok is Hanya Yangihara's A Little Life. A finalist for the National Book Award and Man Booker Prize, and the 2016 Winner of the Kirkus Prize, A Little Life is a masterful depiction of love and a stunning portrait of the enduring grace of friendship in the twenty-first century.
In her intimate conversations, Yanagihara speaks about the themes she explores in her bestselling novel: friendship, trauma, an alternative adulthood, and the limits of love and healing.

With over one billion views, Nicola Yoon's Everything, Everything is a beloved book on TikTok. A New York Times bestseller with a film adaptation, her debut novel is innovative, inspiring, and heartbreakingly romantic.
With her diverse and relatable characters and captivating plots, Yoon talks about the inspiration behind her bestselling romances and the importance of representation in her talks for audiences of all ages.

With four New York Times bestselling novels, Taylor Jenkins Reid is a sensation on Booktok and Bookstagram. With over half a billion views on TikTok, The Seven Husbands of Evelyn Hugo and Daisy Jones and the Six are phenomenonal hits with the reading community.
In her lively on-stage conversations, Reid explains the behind-the-scenes process of writing her historical fiction novels, from how she created Evelyn Hugo as an amalgamation of many of the biggest mid-century stars to how she drew inspiration for Daisy Jones & The Six from researching world-famous 70s rock bands, examining media coverage of celebrity couples, and becoming a first-time songwriter herself.

Melissa Urban is The Boundary Lady. Beloved by millions of fans (and social media followers), she shows how to prioritize your needs and revolutionize your relationships in her videos and in her New York Times-bestselling Book of Boundaries.
In her passionate talks, Urban teaches audiences how boundaries aren't selfish but an essential tool for improving mental health, kick-starting productivity, and combating burnout.

Eve Rodsky's instant New York Times bestseller Fair Play trends on social media as a life-changer. Her Fair Play system creates delineated roles, specific assignments, and explicitly defined expectations that empower both partners to take the lead and is recognized for its life-changing strategy by influential taste-makers and time management experts alike.
In her educational presentations, Rodsky helps you prioritize what's important to your family and who should take the lead on every chore, from laundry to homework to dinner.