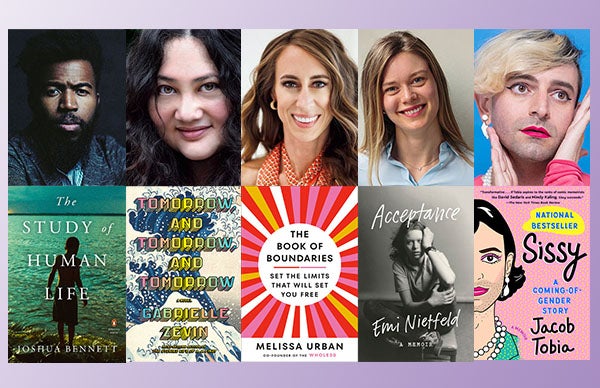 PRHSB is proud to represent speakers who are sparking crucial conversations about boundaries, gender freedom, creative writing, and the power of the spoken word. Their wide-ranging perspectives on creativity, leadership, self-care, and diversity are perfect for audiences of all kinds. Please join us in welcoming these new voices to the PRHSB roster!
---
LGBTQ+ rights activist, actor, and writer

Identifying as genderqueer and gender nonconforming, Jacob Tobia is"gender chill," a term they coined, embracing the best and fun parts of all the genders. Author of the bestselling memoir Sissy, Tobia shares comical but deeply personal, unapologetic, and candid stories from their own coming-to-gender journey while showing the playful nature of non-binary genders and how gender is limitless.
Software engineer, writer, and author of Acceptance

In her memoir, Acceptance, Emi Nietfeld chronicles her personal journey from a teenager suffering from neglect to graduating from Harvard and making a career in Big Tech. In practical but inspirational talks, Nietfeld challenges the gospel of resilience, the myth of U.S. meritocracy, and the limits of the bootstrap mentality, while offering the encouraging message that your choice of career does not need to limit your dreams.
New York Times-bestselling author of Tomorrow, and Tomorrow, and Tomorrow

Gabrielle Zevin's Tomorrow, and Tomorrow, and Tomorrow is an international sensation, a New York Times bestseller, Jimmy Fallon Book Club pick, and Amazon's #1 Book of 2022. Her thoughtful, funny events bring audiences into her writing process as she shares her techniques for writing unforgettable characters, how games are integrally linked to story, and the irreplaceable relationships forged in local literary communities.
"The Boundary Lady," New York Times-bestselling author, and Whole30 co-founder

Beloved by millions of fans (and social media followers), Melissa Urban pulls from her personal experience as a recovered addict and entrepreneur in passionate talks that teach audiences how boundaries are essential to improving mental health, kick-starting productivity, and combating burnout. Her newest release, The Book of Boundaries, provides actionable scripts to help readers communicate with compassion and resist peer pressure and pushback.
Award-winning poet and scholar of the spoken word

Dr. Joshua Bennett has performed his original works on national stages ranging from the Sundance Film Festival to President Obama's White House. In his dynamic talks for audiences of all ages, Bennett shares the transformative power of the spoken word and unpacks the hidden literary histories of Black environmentalism, education, and resistance.