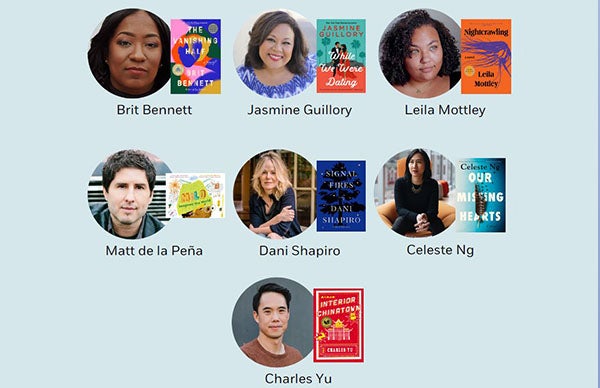 Meet PRHSB speakers Dani Shapiro and Celeste Ng at these Penguin Random House ALA events!
Sunday, June 26th at 9:00 AM
Washington Convention Center, Ballroom ABC
Celeste Ng will be in conversation with Nancy Pearl.
Monday, June 27th at 2:00 PM
Renaissance, Anacostia Ballroom
Dani Shapiro chats about her latest book Signal Fires.
---
We're happy to welcome back the ALA Annual Conference & Exhibition! From bestselling adult and YA authors to rising literary stars and book club favorites, our speakers engage with local audiences and enrich library programming.
---
Novelist of National Book Award nominated, New York Times-bestselling The Vanishing Half, and National Book Foundation 2016 5 Under 35 Honoree

Speaking Topics & Expertise:
Reflects on the challenges and rewards of writing commentary and personal essays in the age of comment sections and immediate feedback.
---
Writer and New York Times-bestselling romance novelist

Speaking Topics & Expertise:
Discusses the way she approaches writing—from figuring out story to developing lovable and recognizable characters.
---
Author of Oprah's Book Club selection Nightcrawling and former Youth Poet Laureate of Oakland

Speaking Topics & Expertise:
Discusses the importance of representation and the need to render the stories of young women and girls with the nuance, complexity, and joy they deserve.
---
Author of the New York Times bestseller Everything I Never Told You and Little Fires Everywhere

Speaking Topics & Expertise:
Discusses her own evolving relationship with the term, as well as larger issues of "ethnic" writing and cultural identity in fiction.
---
New York Times-bestselling author of books for children and young adults

Speaking Topics & Expertise:
Encourages audience to find beauty in their everyday lives and explore timeless themes of wonder, gratitude, and love.
---
Bestselling author of Hourglass and Inheritance, host of the Family Secrets podcast.

Speaking Topics & Expertise:
Talks about the power of the unconscious, and what we reveal to our readers, and to ourselves, as we discover the true nature of the stories we carry.
---
National Book Award-winning author of Interior Chinatown


Speaking Topics & Expertise:
Speaks to audiences of all kinds about the Asian American experience, representation and stereotypes in film and television, and the unique power of science fiction to address the human condition.