Add speaker
Remove speaker
Speaker added
Mike Massimino
NASA Astronaut and author of Spaceman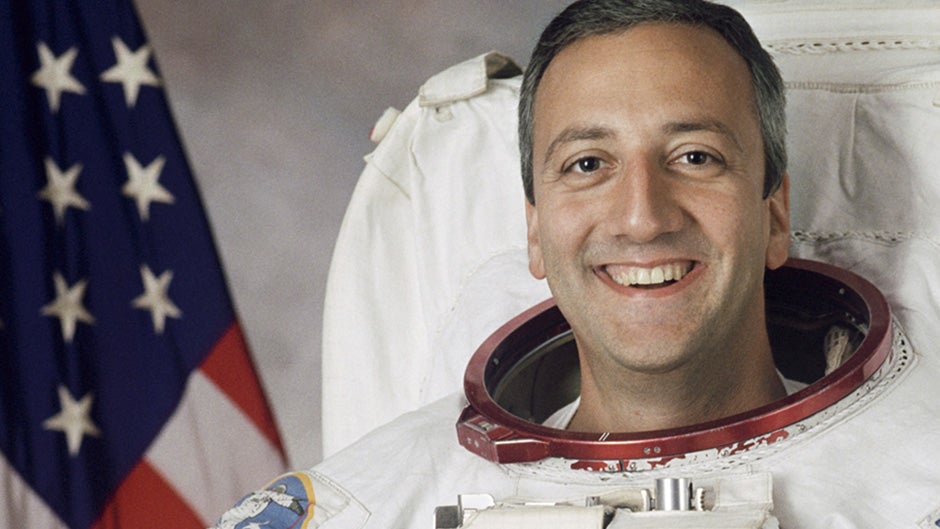 Photo credit: NASA
Mike Massimino's testament to the power of determination inspires audiences to never give up when pursuing a goal. Persistence, teamwork and innovation led to his unlikely journey from a working class family to fulfilling his childhood dream of becoming an astronaut. A great storyteller, Massimino candidly shares the ups and downs of his extraordinary journey, as well as a few secrets about the universe, with his signature warmth and wit.
About

Mike Massimino

Mike Massimino's road to NASA started in July 1969, when he first watched Neil Armstrong walk on the moon. Growing up in a working-class family on Long Island, Massimino's singular focus on his dream propelled him to Columbia and MIT. Massimino's good humor and affable personality kept him afloat even as he was rejected from NASA's notoriously competitive astronaut training program three times. After his third rejection, he was told his poor eyesight stood between him and his longtime ambition. Massimino, too tenacious and driven to give up, began rigorously working to improve his eyesight. His focus and effort paid off, and he joined NASA in 1996.

Life as a NASA astronaut challenged Massimino's resolve, humility, and intelligence in unanticipated ways, from the physical strain of practicing spacewalks underwater to handling the profound devastation of losing friends in the tragic Columbia shuttle accident. But in 2002, he achieved his dreams with his first spacewalk, a moment described reverently in his memoir, Spaceman. On both space flights, Massimino and a small group of astronauts were tasked with making crucial repairs to the storied Hubble Telescope.

In talks that celebrate the necessity and beauty of science as much as they do the wonders of the universe, Massimino tells audiences how his own fascination with the cosmos along with teamwork, passion, and persistence turned a childhood dream into a lifelong journey. His smart, funny, and moving stories serve as impassioned argument against giving up the dream of space travel, and showcase showcase the brave, innovative men and women who make it possible. Massimino's stories and messages about how perseverance, teamwork, and leadership have helped him and his teammates get through difficult times in space and on Earth are especially applicable during the personal and professional impacts of COVID-19, and how to move forward in new ways of doing business. 

A de facto spokesman for NASA, Massimino has costarred in the film Hubble IMAX 3D, hosted specials on PBS, the Discovery Channel, and the National Geographic Channel, and played himself on the CBS sitcom The Big Bang Theory. He has served as an astronaut advisor and appeared as a cameo role for Netflix series Away. He cemented his role in both the history of social media and space exploration when he became the first person to tweet from space.

A graduate of Columbia University and the Massachusetts Institute of Technology, Massimino lives with his wife in New York City.

Speaking

Topics

Working with Your Team and Clients Over Distance

Massimino and his fellow astronauts spent hours in simulators practicing how they would work and communicate with their support team in the Mission Control Center (MCC) while literally a world apart. He also spent years as a Capcom (Spacecraft Communicator) in MCC communicating with and supporting astronauts in space. Critical problems arose during Mike's final spacewalk on the Hubble Space Telescope, and even though support team members were at various locations on Earth, they were able to save the day for Mike in space. Although we are now physically separated from each other today due to COVID-19, we can strive to be the person that people can call for help. Reach out and try to be someone else's Mission Control Center.

Dealing with Isolation

Massimino's NASA training taught him valuable lessons on how to thrive in isolation. Some tips are: try to embrace the situation; concentrate on meaningful work; keep open the lines of communication between friends, family and co-workers; be respectful of the well-being of your crewmates; keep up your self-care and exercise; enjoy the beauty of our planet; and use time away from the hustle and bustle of our normal daily routines to think introspectively about our lives.

Recovering from Adversity, Tragedy, and Disappointment

Massimino's first spaceflight was on Space Shuttle Columbia. On Columbia's next voyage, the crew and the space shuttle were lost during re-entry. It was devastating to lose seven of his friends in an instant. While grieving and consoling the families of those fallen heroes, another reality set in: what would happen to the future of the space program? The International Space Station was not yet completed and the Hubble Space Telescope needed repair. Massimino and his colleagues would not let the loss of their friends be in vain. Innovative procedures, tools, and techniques were developed to get the shuttle flying again to finish that important work. Massimino shares stories of how that same effort and attitude is needed now to recover from the effects of COVID-19 on our businesses and lives.

Being Resilient and Adaptable in Times of Change and Uncertainty

Massimino's second space flight was one of the last of the Space Shuttle Program. It was time for NASA to retire the shuttle and move on to the next phase in space exploration. That next phase included flying exclusively on the Russian Soyuz for a few years, and working with commercial companies to provide launch services in the future. Many at NASA did not want to accept these changes. But the last few years have shown that those who accepted these changes have thrived, while those who resisted are no longer contributing. We may not like the new world we are now living in that has forced us to change the way we do business. But by accepting change and knowing that change can provide unseen opportunities, we can still shoot for the stars.

Commercial Space Travel and the Future of Spaceflight

With the recent SpaceX launch of NASA astronauts to the International Space Station, a second golden age of space exploration has begun. In the future we can expect to see more entrepreneurial companies, such as Elon Musk's SpaceX, Jeff Bezos's Blue Origin, and Richard Branson's Virgin Galactic, exploring space not only for scientific benefit but also for profit. We are transitioning from over 50 years of human space flight programs conducted exclusively by governments, to programs that provide new opportunities for private enterprise. It is similar to air travel a century ago when airplanes were used primarily for government and military purposes, and for barnstorming. Those early years led to today's commercial airline industry. Just imagine what the recent accomplishments can lead to in the near future: space tourism, utilization of space resources, and science and technological developments to benefit life on Earth.

The Importance of Teamwork

Mike Massimino knows what makes for a strong crew, and his dedication to being the best possible leader for his team led to them setting a record for the longest consecutive spacewalk, a record which still stands today. In this speech he lays out his personal and inimitable philosophy on creating and leading a strong team capable of facing challenges with innovation, creativity, and enthusiasm.

Under Pressure in Zero Gravity – How We Saved the Hubble through Innovation and Determination

How do you take out over one hundred small screws from a machine that wasn't designed to be taken apart? How do you do it with the knowledge that any mistake might compromise the ability to discover life on other planets? And how do you do it in space? Using his own experience on the crews that repaired the Hubble Telescope as an example, Massimino not only teaches audiences how his team's persistence and creativity saved one of mankind's most important pieces of technology, but also how innovation and determination are skills that everyone has and anyone can hone.

Spaceman: An Astronaut's Unlikely Journey to Unlock the Secrets of the Universe

In this entertaining talk, Massimino chronicles his journey from a six-foot-three Long Island kid who was afraid of heights to a two-time veteran of NASA space flights. With humor, humility, and intelligence, Massimino takes us through his childhood obsession with space, his reconnection with his astronaut ambitions thanks to the movie The Right Stuff, and his multiple attempts to gain admission to NASA. His determination leads to a successful career as an astronaut, and a dramatic, moving, and humbling new understanding of the importance of teammates, family, and fellowship.

Video

Praise

for Mike Massimino

Thank you so much Michael Massimino for joining us! You crushed it! If you are looking for an engaging speaker with a great message…reach out to astro Mike!

—

Florida Chamber of Commerce's Future of Florida Forum

I sincerely appreciate the obvious thoughtfulness and effort to incorporate all the points we discussed the other day.  I know this is going to be a big hit at the conference.  I can't think of a better message to close our meeting. Thanks for putting this together so quickly on what I know was very short notice.

—

President, National Council for Air and Stream Improvement

As anticipated you delivered a talk that was spot on!  The comments have all been on how relevant your content was to our business.  Thanks for your prep and tremendous message!"

—

Manager, Business Development, Terumo Aortic   

Thank You on behalf of all my DuPont colleagues who created, developed, and hosted the Emerging Leaders Conference. Your professionalism, sincerity, and heartfelt connection with our emerging leaders resonated beyond belief.

—

Vice President and General Manager, DuPont Safety  

Mike is so inspiring, motivational, and GENUINE!!! His stories are amazing – I could listen to him all day! It was truly a hit with our audience.

—

Boston-based Retirement Services organization

Mike was really great to work with and just some amazing stories and we're bummed our clients couldn't meet him in person, but we think this is the next best thing. Sort of like him talking to us from space. Many of his stories are very topical to what we are all going through right now including the quarantine astronauts go through before going into space and the isolation even in space being disconnected from the world. The story of teamwork with his fellow astronaut classmates was especially powerful for me—this idea that we win or lose together. A great reminder that we're all in this together right now. And I enjoyed his story about needing to both accept change and anticipate change in the same moment. You have 30 seconds of venting, ranting, or feeling sorry for yourself— and then you move forward. Because the only constant is change. Really powerful!

Praise for Spaceman

An engaging and uplifting memoir that's sure to give readers a deeper appreciation for the U.S. space program and inspire some future astronauts.

Massimino's incredible journeys, filled with grit, courage, suspense and thrills, are told with such candor and delight, that for a brief moment I felt I'd finally made it to space too. Read this book and be inspired to reach for the impossible.

—

Brian Greene, Columbia University, author of

The Fabric of the Cosmos

Inspired by moonwalkers, Mike grew up, became an astronaut, and fixed the Hubble Space Telescope, all while remaining some kinda' humble. You can't help but follow him from Long Island to the bottom of the spacewalk practice pool, then 350 miles up and back. He's a spaceman through and through; he tells how hard work can take you out of this world.

—

Bill Nye, the Science Guy, CEO of the Planetary Society

Mike Massimino writes about space with an astronaut's eye and an engineer's precision. You'll be impressed with his journey and his perspective on where a well-developed space program can take us in the future.

Books

by Mike Massimino

Media

About Mike Massimino
212 572-2013

Mike Massimino travels from New York, NY
Featured Title
Spaceman
"Every generation of astronauts needs a storyteller — a person with wit, humor, and passion who has lived our collective dreams of space exploration and returned to tell us all about it. Mike Massimino is that person. He's that astronaut. And this is his story."—Neil deGrasse Tyson  
Similar Speakers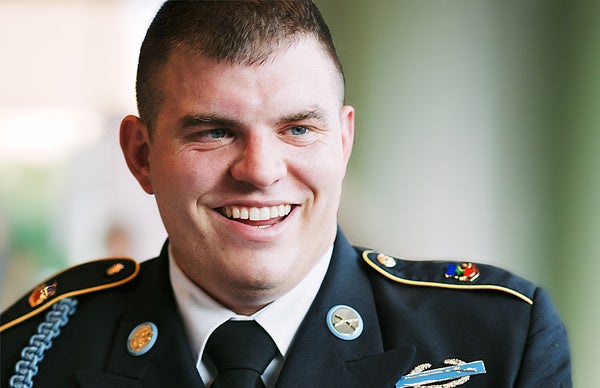 Retired United States Army Staff Sergeant and Recalibrated Warrior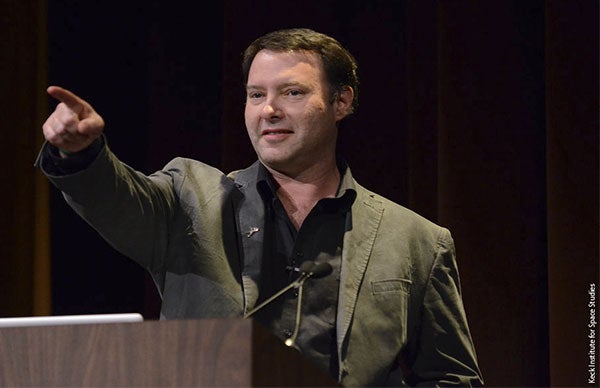 Award-winning astronomer and author of Postcards From Mars and The Interstellar Age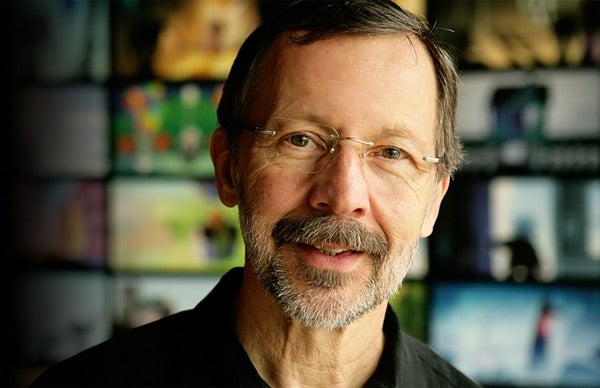 Co-founder of Pixar Animation Studios, former president of Pixar and Walt Disney Animation Studios, and author of Creativity, Inc.