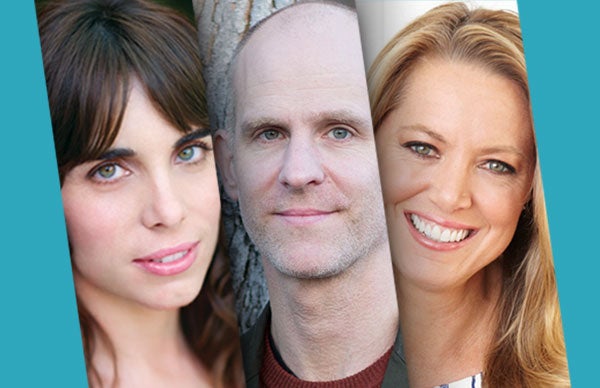 The state of mental health and mental illness in our country is a critical topic of national conversation, and one that increasingly surfaces in our discussions about healthcare, gun control, and incarceration. Far removed from the institutional challenges, mental health and mental illness remain intensely personal subjects, surrounded by cultural stigmas and prejudice. Touching on personal experience, scientific research, and political climate, our speakers reflect on the multifaceted nature of mental health today.
When she isn't writing, cooking, or spending time with her family, bestselling cookbook author Melissa d'Arabian is a passionate activist in the national conversation on suicide awareness and prevention. Speaking from personal experience having lost her mother to suicide, d'Arabian is a thoughtful speaker whose messages are both hopeful and empathetic. Whether speaking to Congress or at events for the American Foundation for Suicide Prevention, Melissa d'Arabian shares her insights into how to help those in need and those left behind, and what we can do to diminish cultural stigmas.
Luke Dittrich is a National Magazine Award-winning journalist and the author of Patient H.M., a scientific odyssey and personal investigation into Dittrich's own family history. This is the story of the author's grandfather, a risk-taking neurosurgeon and prolific lobotomist, and his patient, Henry Molaison, an amnesic who became the most studied human research subject in history. Dittrich's lectures and writings delve into the history of modern memory science, while raising urgent questions about the ethics of medical research and human experimentation.
Domenica Ruta is the author of the New York Times bestselling book With or Without You, a memoir of her unconventional childhood and coming of age. Ruta grew up in Massachusetts with her mother, a drug dealer and user who raised her daughter while on OxyContin. Despite her unstable home life, Ruta found solace in writing and reading as a child and eventually, while struggling with her own addiction, graduated college and completed her MFA. Drawing on her life experiences, Domenica Ruta speaks openly about the painful realities of trauma and addiction, and how she found redemption in her past.
Steve Silberman is the author of the award-winning book, NeuroTribes, a comprehensive and sympathetic history of autism. Silberman calls for us to reconsider traditional thinking about diagnoses and advocates for inclusion. His conversant lectures support the growing Neurodiversity movement: a framework which regards autism and other conditions such as dyslexia and ADHD as natural human variations rather than disorders. A compassionate speaker, Silberman argues that our culture should help individuals celebrate and apply their native strengths, rather than trying to correct or normalize their behavior.
Please contact us about booking our speakers to come to one of your future events.
If you would like to stay up-to-date on our speakers, make sure to sign-up for our newsletter.