Antiracism in the Workplace
NEW Video and Workbook Package
Talking about antiracism in the workplace is crucial. Racist policies and ideas can negatively affect how a person is treated at work, how they are compensated for their work, their productivity, and the overall trajectory of their career. Research also shows that a diversity of perspectives among employees, suppliers, and clients can positively impact a company's bottom line.
Antiracism in the Workplace is a video and workbook package that builds on the renowned antiracism work and research by Dr. Ibram X. Kendi. A #1 New York Times bestselling- and National Book Award-winning author, Dr. Kendi is the Andrew W. Mellon Professor in the Humanities at Boston University and the founding director of the BU Center for Antiracist Research. In 2021 Dr. Kendi was awarded the 2021 MacArthur Fellowship, popularly known as the "Genius Grant."
The package complements the diversity, equity, and inclusion work that companies and organizations across the public and private sectors are already doing in their workplaces. It contains three short videos and an accompanying workbook with definitions, data & research, reflection prompts for individual and group discussions, and additional resources for further reading, watching, and learning.
Please click the video below for a short preview:
Accompanying the videos is a 17-page workbook: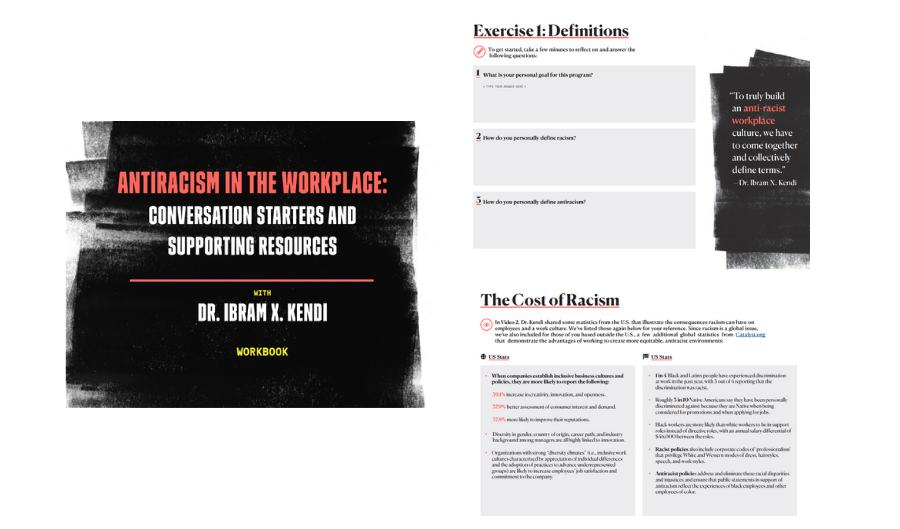 This video and workbook package is ideal for organizations that are already familiar with Dr. Kendi's work. It is intended for groups of all sizes from the private and public sector that wish to engage employees and extend their existing work with supplemental resources, regardless of where they are on their antiracism journey.
Please contact us about licensing the Antiracism in the Workplace package for your organization.