The globalized twenty-first century is at a moment of flux, with large stakes confronting governments, corporations, and ultimately, every individual. Navigating through this current state of disorder is leading global futurist and bestselling author of How To Run The World and The Second World, Parag Khanna. Brilliant, eloquent, and well-connected, Khanna represents a new breed of young thinkers, offering a fresh lens through which to see the future of globalization and geopolitics. With his trademark energy, intellect, and wit, Parag Khanna has been hailed as "something of a foreign policy whiz kid" (The New York Times Book Review).
About his current book, Connectography: Mapping the Future of Global Civilization, Parag writes: "Mankind will build more infrastructures in the next forty years than the past four thousand, eclipsing all spending on military and defense. Going forward, we will not be waging wars over territory, but engaging in a global tug-of-war. That age old adage—"geography is destiny"—is now obsolete. Connectivity is now destiny."
Drawing on two decades of on-the-ground travel to more than one hundred countries, Khanna challenges the world order as we know it, daring to propose powerful alternatives to our current disorder. In the spirit of Generation Y, he provides a fresh and provocative but also pragmatic and long-lasting approach, one in which all of us play a role in managing an ever more complex and unpredictable global society. Where Samuel Huntington and Francis Fukuyama offered arguments to frame the 1990s, Khanna provides the single paradigm necessary to capture the emerging twenty-first century world.
Watch Parag Khanna's TED Talk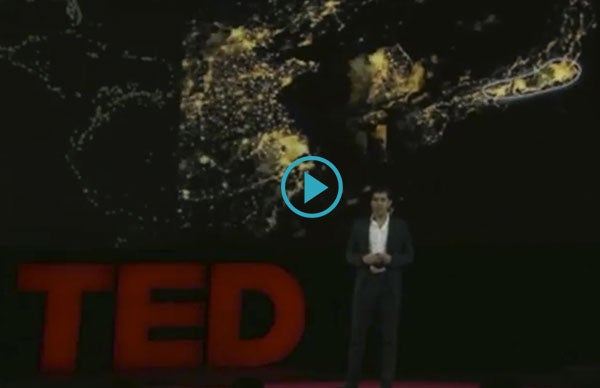 Watch Parag Khanna at the McKinsey Global Infrastructure Initiative 2015
Parag Khanna is a global strategist, world traveler, and bestselling author. He is a CNN Global Contributor and a Senior Research Fellow at the Lee Kuan Yew School of Public Policy at the National University of Singapore. Khanna is the co-author of Hybrid Reality: Thriving in the Emerging Human-Technology Civilization and author of How to Run the World: Charting a Course to the Next Renaissance and The Second World: Empires and Influence in the New Global Order. He has been a fellow at the New America Foundation and Brookings Institution, advised the U.S. National Intelligence Council, and worked in Iraq and Afghanistan as a senior geopolitical advisor to U.S. Special Operations Forces. He holds undergraduate and graduate degrees from the School of Foreign Service at Georgetown University and a Ph.D. from the London School of Economics. He serves on numerous governmental and corporate advisory boards and is a Councilor of the American Geographical Society, a Trustee of the New Cities Foundation, and a Young Global Leader of the World Economic Forum.
Speaking Topics
Connectography: Mapping the Future of Global Civilization
Managing Risks in a Complex World
The Future of Globalization: Strategic Trends, Economic Competition & Technological Innovation
Winning the Global War for Talent
Billions of People, Trillions of Dollars: How Asia Will Shape the World in the Coming Decade
Mega-Trends: Technology, Cities and Map of the Future
How to be Global: From Multinational to Metanational
Asia's Next Decade: China & Beyond
Praise for Connectography
"Connectography is ahead of the curve in seeing the battlefield of the future and the new kind of tug-of-war being waged on it. Khanna's scholarship and foresight are world-class. . . . A must-read for the next president."
—Chuck Hagel, former U.S. secretary of defense
"Reading Connectography is a real adventure. The expert knowledge of Parag Khanna has produced a comprehensive and fascinating book anchored in geography but extending out to every field that connects people around the globe. His deep insight into communications, logistics and the many other globally critical areas is remarkable. An invaluable resource for anyone involved in business, science, arts or any other field."
—Mark Mobius, Executive Chairman, Templeton Emerging Markets Group
"This is probably the most global book ever written. It is intensely specific while remaining broad and wide. Its takeaway is that infrastructure is destiny: Follow the supply lines outlined in this book to see where the future flows." 
—Kevin Kelly, Senior Maverick, WIRED
"Khanna's new book is a brilliant exploration of supply-chain geopolitics and how the intersection of technology with geography is reshaping the global political economy. It is an intellectual tour de force that sparkles with original insights, stimulating assertions, little-known facts, and well-researched predictions."
—Chas W. Freeman, Jr., Chairman, U.S. China Policy Foundation, and former U.S. Ambassador to Saudi Arabia
Find Out More about Parag Khanna
Please contact us about booking Parag Khanna to speak at one of your future events.