In August 2022 John Green took to the stage at the University of Mississippi to address over 5,000 first-year students and members of the campus community for their Fall Convocation. Sitting in the audience were many students who first heard about John Green when they discovered his books in middle school—Looking for Alaska, An Abundance of Katherines, Paper Towns, and The Fault in Our Stars. The freshman students had all read Green's most recent book The Anthropocene Reviewed as part the University of Mississippi's longstanding First-Year Experience (FYE) program, and now had the chance to kick off their time at Ole Miss with inspiring and humorous words from an author they so admired in their teen years.
The Anthropocene Reviewed is John Green's non-fiction debut. While Green is a household name for his award-winning and #1 bestselling fiction, his talents as an essayist have long been at the heart of his work. The Anthropocene Reviewed is a collection of personal essays adapted and expanded from Green's successful podcast by the same name. In his essays, Green looks at our human-centered planet and offers profound commentary on human existence.
Universal reflections and personal advice were also at the heart of the convocation keynote John Green delivered. "I have to confess that I feel a bit unstuck in time at the moment," Green opened as he told the audience that his first event as a published author was in fact in Oxford, Mississippi in 2005. Other well-known Mississippi natives inspired Green's speech as he shared with his audience:
"…I am reminded of the haunting lines from Mississippi native Richard Wright: "I would hurl words into this darkness, wait for an echo, and if an echo sounded, no matter how faintly, I would send other words to march, to fight, to create a sense of the hunger for life that gnaws in us all."
I would encourage you to hurl your words into the darkness, to never give up trying to bring noise and light to those places where otherwise there would only be silence and cave-darkness. And equally, I would ask you to be an echo–to tell your friends and family and professors that you hear them, to listen with the care and generosity that allows you to repeat back not just the words but the thoughts and feelings that lie beneath them."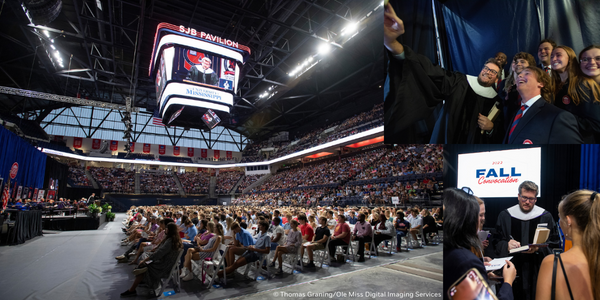 The audience was rapt, and as the Assistant Vice Chancellor noted: "John invited us to join him in examining our human experience in concert with the planet. The book and his convocation address inspired, challenged and motivated us to take action and make our community and the world a better place."
John Green himself thanked the University of Mississippi for the "10/10 experience", going on to say: "It was a great experience for me, and one I will treasure for a long time to come. I'm so grateful to everyone at Ole Miss who made it possible."
PRHSB thoroughly enjoyed working with the University of Mississippi on yet another great event!
If you are looking for speakers for convocation or commencement addresses, you'll find additional programming ideas here.
Please be in touch to book John Green or other speakers for future events.